Iowa Democrats say findings of investigation into botched caucuses coming soon
State party certified the results 23 days after the caucuses
The chair of the Iowa Democratic Party says an investigation into the meltdown in reporting of the results of the 2020 Iowa caucuses should released before the end of the year.
The botched reporting of the caucuses in early February became a national and international story and it was an embarrassment for Iowa Democrats. The debacle also raised concerns that the Iowa caucuses could lose their spot – at least in the Democratic presidential nominating calendar – that they have held for nearly half a century as the first contest in the road to the White House.
CLICK HERE FOR THE LATEST 2020 ELECTION RESULTS FROM FOX NEWS
The party was unable to determine a winner on the night of the Feb. 3 caucuses, after a mobile app used to count and report the results crashed and the telephone backup system was overrun. Three days after the caucuses, when the presidential race moved on to the New Hampshire primary, the Iowa Democrats released statewide results showing former South Bend, Ind., Mayor Pete Buttigieg narrowly beating Sen. Bernie Sanders of Vermont by a razor-thin margin, in a field of roughly two dozen candidates.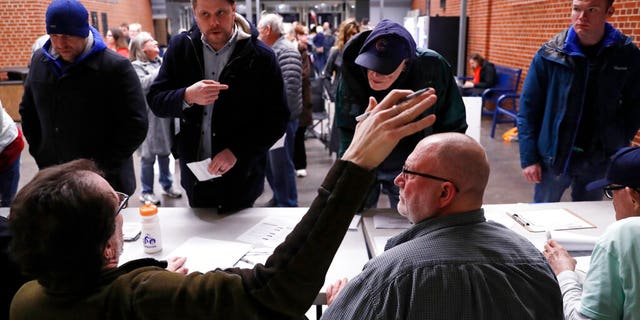 The Associated Press never projected a winner in the contest, pointing to the reporting debacle in saying it could not be certain of the results. The state party eventually certified the caucus results on Feb. 29.
Troy Price, who was the Iowa Democratic Party chairman at the time, resigned nine days after the caucuses. His successor, interim Chairman Mark Smith, told the Des Moines Register he "made a promise to allow this review to run unimpeded and to the fullest extent."
A process that was expected to take less than two months was extended because the coronavirus pandemic, he said. The pandemic "added many barriers that delayed the process," he added. But he promised that the report would be released to the state party's central committee and it would be made public by the end of the year.
"What's most important is that we as a party will soon have a chance to fully review the report and learn and grow from it and ensure that errors that were made will never happen again," Smith said.
Veteran Iowa based Democratic consultant Jeff Link told Fox News that the reporting meltdown "absolutely does" threaten Iowa's chances of staying first in the Democratic presidential calendar.
"There's going to be a very important conversation about what happened, what went wrong, and how we deal with that going forward," Link emphasized.
Outgoing Democratic National Committee Chairman Tom Perez said in August that the party should phase out caucuses.
CLICK HERE TO GET THE FOX NEWS APP
"I think by 2024 we ought to have everyone being a primary state," he told the AP during the Democratic National Convention.